The All Wales New Curriculum will help schools and settings focus effectively on learner well-being, equity and excellence.
Within the EAS we believe every learner must be respected and challenged to achieve the best that they are capable of. Children and young learners who have strong relationships and a positive sense of themselves, who can understand and manage their own health and emotions and deliver a high level of resilience are in a better position to reach their full potential in the future.
The diagram demonstrates how many national priorities and Acts shape the direction of the work within the EAS around Wellbeing and Equity.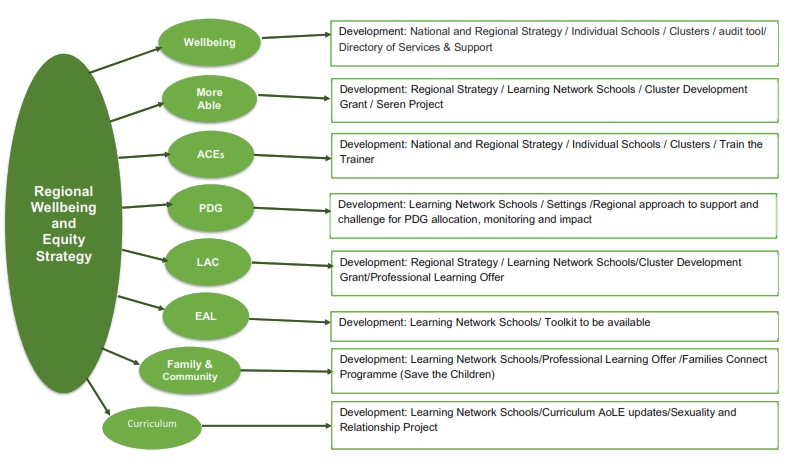 More Able and Talented
The EAS is committed to providing support and challenge to schools and settings, to improve provision and standards for more able learners across the region. The strategy and guidance documents note that schools and settings should set high expectations for more able learners, so that they achieve outcomes commensurate with or exceeding national benchmarks of performance. The strategy encourages schools and settings to have an appropriate focus on establishing a culture in which more able learners are inspired and motivated to be ambitious and in which learners are nurtured and encouraged.
This strategy defines more able learners as:
'Children and young people with one or more abilities developed to a level significantly ahead of their peers, or with the potential to develop those abilities and to achieve at the highest levels through challenging learning opportunities and an enriched curriculum.'
The definition therefore encompasses those learners already achieving and attaining to the highest grades/levels/outcomes along with those who may currently be underperforming or who have barriers to their learning. As a region we have a More Able and Talented Strategy, this document shapes the direction of our work with schools. This is delivered by our Learning Network of Schools.
Ethnic Minority Learners – those who have English as an Additional language (EAL)/ New to English Language (NTE)
The percentage of ethnic minority learners within our region has increased in line with the increase in numbers across all Wales. PLASC (2017) shows we have 9.7%; this is an increase from 7.3% in 2013, this is in line with an all Wales increase. These overall figures mask significant differences between Local Authorities, with the proportion of ethnic minority in Newport increasing from 23% to 23.7% The EAS is fully committed to ensuring our schools provide a fully inclusive curriculum that is accessible to all. A collaborative network of school has written a toolkit to support all schools who are new to receiving this group of learners, this document was written in partnership with GEMS.
Family and Community
As a region we believe engaging with families and school's wider communities is an excellent method of raising standards and wellbeing in schools. We aim to support our schools embed the Welsh Government Family and Community Engagement Toolkit to support our families actively support their child's learning. We will endeavour to work with local charities and organisations to develop a team around our schools.